Driving through challenging conditions such as heavy rain and fog, navigating 4×4 trails and country roads at night, or heading on an epic road trip means you want to see whats ahead and be seen by others – that's where you may need more than your 4WD's standard light set up. By adding LED Driving Lights and/or Light Bars to your vehicle provide that extra power and visibility to allow you to go even further off the beaten track and explore more than ever before, safe in the knowledge you can find your way back.
There's many components that go into making our LED driving lights and light bars, and it's what makes them the best option for additional lighting for your rig…
Why We Prefer LED
Lasting up to 50,000 hours, LED's are by far the most efficient and durable lighting option available, they're at least 3 times more efficient than halogen lights and unlike halogen, they are waterproof and resistant to vibrations that can degrade a halogen bulb. LED lights can create light that most closely replicates true daylight. At Ultra Vision, we use a combination of OSRAM and CREE next-gen LEDs which offer incredible light output along with excellent durability. By using these LED's in our lights, we can ensure we're getting the best light possible and it means we can add important features to some of our lights, such as a hi/lo option.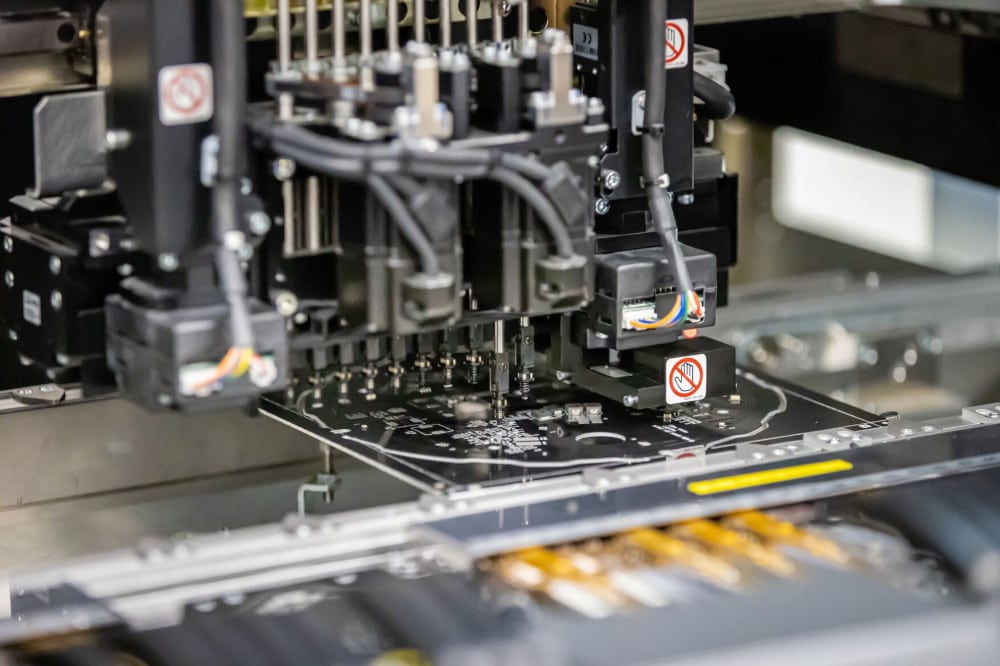 Built & Assembled Right Here In Our Factory
PCB (printed circuit boards), are one of the most important elements in our LED lights. We make our all our PCBs on-site using specialised machinery, allowing us to quality check all our circuit boards, so they are all up to our required high standards before we assemble our products. By creating our PCBs in house, we can also make sure they are offering maximum efficiency when it comes to power consumption, heat dissipation and weight. We then add the required components onto our PCBs and place them in our Australian made die cast alloy housing to make sure they are ready to take on the toughest conditions, before adding polycarbonate lenses. . Building and assembling our lights in our own factory allows us to ensure that every unit we produce is built to the highest standard, and that they are ready for the trails. After we assemble our LED lights, they undergo our meticulous quality control process, and it's these processes that allow us to offer 3 years warranty on our Raptor range of lights and 5 years warranty on all lights in our Nitro Maxx range.
Colour Temperature 
Our lights are available in a variety colour temperatures, 4000K (Raptor), 4500K (Nitro Maxx) and 5700K (Raptor and Nitro Maxx). Each colour temperature has their own advantages, and are best suited for different driving conditions and situations so the colour temp that's right for you will largely depends on the environments that you drive in. Producing a warmer light, 4000K/4500K lights will give you less glare from road signs and can be better in poor weather conditions such as heavy rain, fog or snow, or if you frequently drive in built up areas. 5700k lights produce a whiter light and are great for highlighting detail at distance. These driving lights are perfect for driving in wide open spaces or down long roads where light reflection won't be an issue. Neither colour temperature is necessarily brighter than another, but each colour will be better suited to different driving scenarios.
Optics
An important part of any driving light, the optic allows us to manipulate the beam, increasing the width and distance to create an ideal beam pattern. We have developed our own optics that go into our lights and light bars, to make sure all of our lights give the best light beam for their use. It also means that both our light bars and driving lights are real all-rounders! Our patented CONTRL® optic is designed to reflect light forwards in order to cast the beam far out in front of the vehicle, which gives our lights great distance. The WIDR® optic sits horizontally in many of our lights, reflecting the light out and to the sides, which creates a wide light beam to allow you to see what's lurking at the side of the road. Our Nitro Maxx range combines these two optics in both our driving lights and light bars to offer you best in market distance and width.
Driving Lights vs Light Bars
The rise in popularity of the light bar has shown that while seeing a few kilometres down the road is important in some circumstances, there are many situations where a wide beam of light is equally needed, such as being able to see animals or obstacles that may be on the edge of the road. Many resolved this by fitting both a light bar and driving lights to their vehicle, however that option isn't always achievable for everybody – which is why we strive to produce lights that perform the best in all circumstances. The truth is that it really does come down to a variety of factors such as driving conditions and personal preference when it comes to deciding between LED light bars v spotlights. For example, light bars are ideal when driving in conditions where seeing far ahead isn't necessary, such as tree lined country roads or windy tracks. Whereas, if you generally drive down pretty long, straight roads with a wide clearance, then driving lights may the perfect option.
At Ultra Vision we have a variety of lighting solutions to suit anyone, from weekend warriors to the most experienced off-roaders. If you're looking to upgrade your vehicle's lighting, why not check out our full range of LED driving lights and light bars.