Many people across Australia would prefer Summer, but here at Ultra Vision we love this time of the year. With shorter days and wild weather, our driving lights are in full use during this time as we get out there in the mud!
Since you all will likely be using your driving lights far more over the next few months, we thought it'd be the perfect time to answer some of the most common questions that customers, both new and old frequently ask…
Is a light bar better than driving lights?
Not so long ago the general consensus was that driving lights were strictly for distance and light bars were only for spread, however this is no longer the case, with our technology rapidly advancing over the past few years. The rise in popularity of the light bar made people realise that while seeing a few kilometres down the road is important, there are many situations where they need a wide beam of light, such as to see oncoming animals or to throw light on that ditch at the side of the road!
Many resolved this by fitting both a light bar and traditional driving lights to their vehicle, and while this does offer you the best of both worlds, it's an option that isn't always achievable for everybody. The truth is that the answer really does come down to a variety of factors such as driving conditions and personal preference.
For example, our latest light bars are ideal when driving in conditions where you need more visibility around you – such as country roads, windy tracks or when animals jumping from the side of the road may be a risk. Whereas if you generally drive down long roads with a wide clearance, then driving lights may be the perfect option for you, helping you to see any upcoming obstacles on the track, other vehicles or debris from far away, giving you time to prepare and keeping you safe.
The great news is with the development of our driving lights and light bars, they both offer exceptional performance in terms of both distance and width! If you pick yourself up some of our lights (especially the more powerful models) – you'll have a true allrounder that suits your style and driving environment.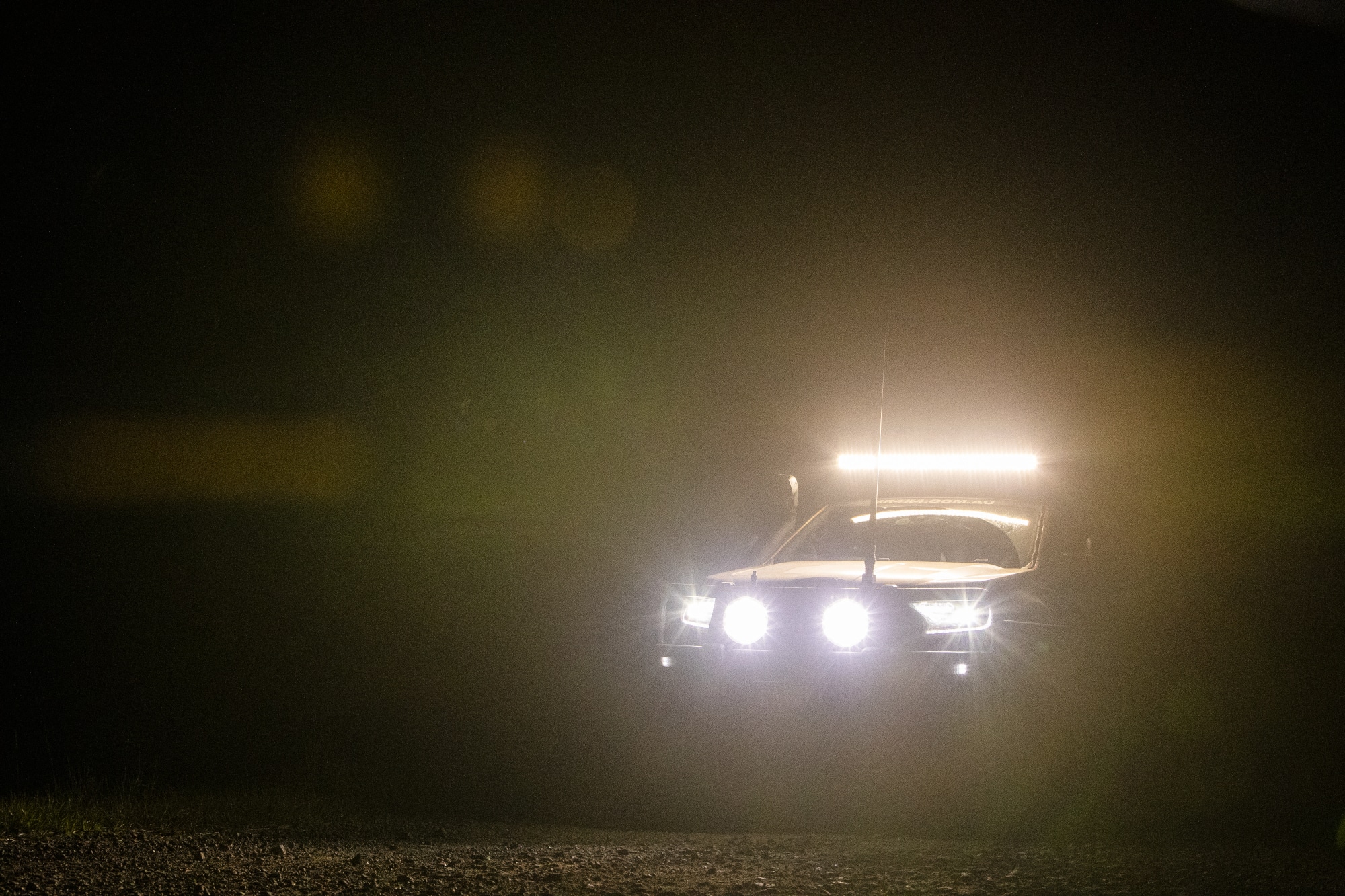 What colour temperature produces the best light?
One of the most asked questions we get! Our lights are available in a variety of colour temperatures depending on what model you get. Our Raptor range comes in 4000K and 5700K, while our Nitro range has 4500K and 5700K.
Neither one of these temperatures is 'better' – each colour temp has their own advantages, and are ideal for different conditions. So the colour temp that's right for you will largely depends on the environment and conditions that you drive in.
4000K/4500K lights have a warmer, orangey/yellow colour, which will give you less glare from road signs or roadside objects, and can be better in poor weather conditions such as heavy rain & fog, or where reflection from the surroundings (such as snow or chalk) can cause a distraction for the driver as the light colour won't dazzle you from the reflection and bounce back. 5700k lights produce a cooler, whiter light and are great for more defined detail at distance. These driving lights are perfect for driving in wide open spaces or down long roads where light reflection won't be an issue, and you want to be able to pick out as much detail as possible on the track ahead.
Neither colour temp means a 'brighter' light, but each are better suited to different driving scenarios.
What is the difference between Lux and Lumens?

The terms lux and lumens are often thrown around, you've probably heard these terms amongst people in the 4×4 enthusiasts or while shopping for driving lights. But what do they actually mean?
Both lux and lumens are measurements of light produced from a light. Lumens measure the amount of light emitted by a bulb, only focusing on the light source, while lux measures the surface illuminated by the light. It considers different factors such as distance from the light source and the direction of the light.
Both are important to take into consideration, however generally lux is the more practical way to determine how effective the driving lights will be for you as it shows how effective the source is at lighting the way ahead. A good way to think about this is the lux is the distance at which you can be away from the light source, and still have enough light to read a newspaper, so 1 lux at 1KM means that at 1000m away from the light source, there will be enough illumination to light up a newspaper enough for you to read.
What's covered in our warranties?
This is one thing a lot of our customers want to know, and rightly so! When you pay with your hard-earned cash for anything, you want to be assured that it's going to stand the test of time and that if any issues do arise, that you'll be properly taken care of. We stand behind the quality and durability of our products, which is why we offer 5 years of warranty for all Nitro products, and 3 years of warranty for our Raptor range – as well as a lifetime warranty on all bracketry should any of it break.
Our lights warranty covers basically everything other than abuse. Situations considered abuse include animal strikes, crashes and adjustments to the internals of the lights, where as any damage that occurs from driving over rough terrain or in poor weather IS covered – so you can have peace of mind that your investment is protected!

Why buy Australian made?
All Ultra Vision products are designed and manufactured right here in Australia, in the country town of Swan Hill, VIC. This is something that we're passionate about. By designing and building all Ultra Vision driving lights right here in Victoria, we have total control over the quality and output of our products, so we know our lights are ready for even the harshest Aussie conditions.
You also know that you're helping to support the local economy and keeping Australian innovation and production going. You also know that we have a team you can speak to and understand any challenges you may have, helping you to get a solution so that you can get the power of Ultra Vision on your vehicle!
Put your trust in an Aussie brand who know exactly what you need for the Aussie tracks.
We're all happy as that muddy season is well under way – there's nothing quite like hitting up the tracks with the lights blaring to light the way!
Hopefully that answers some of your questions that you may have had, but if you're after an answer to something else, you can head over to our FAQ page here, or get in touch.
Check out our socials and tag us on Instagram @ultravisionaust next time you take your spotties for a spin this Winter!