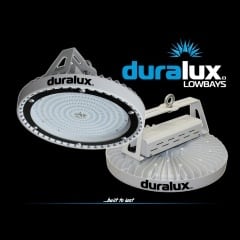 With Australian manufactured electronics, the new Duralux LED Lowbays are the latest addition to our Fixed Lighting range.
The new LED lowbays feature the very latest in technology. These lights are designed for peak performance, even when operating in extreme temperature conditions thanks to the thermal management system that comes standard in these lamps. By operating at 150 lumens/watt these modules provide exceptional light yet only use 25% of the electricity of conventional HPS units and 75% of most LED high/low bays.
With the electronics made in Australia as well as the lamp being assembled in Australia, quality and reliablity is the key feature of this product.