I think we can all agree that standard headlights don't always cut it. There are times when your factory standard lights are simply too weak, and you need an extra boost of power. Whether it's on back roads in the countryside or in tough weather conditions, sometimes the brighter your headlights, the better.
This is where aftermarket driving lights step in. They come in all shapes and sizes and can give you all the brilliance you need to dazzle your way across the countryside. There's a problem though; the vast majority of driving lights are built to be mounted on 4WD vehicles. What about those of us who want some extra light for our day-to-day cars?
Driving lights are usually designed to be attached to bull bars or mounted independently on the roof or bumper of a 4WD. But not every vehicle is designed for mounting accessories. And not all of us who need extra light want to bolt a spotlight to the front of our beloved cars, both because we like how the car looks as is, and because the law won't allow it.
Your Prayers…Answered
If you feel like fitting aftermarket spotlights or light bars to your car is impractical, incongruous and potentially illegal, what can you do? What you need is something easy to fit, that's discrete and road legal, and that means you won't have to change that beautifully symmetrical face of your vehicle. "There must be an easy solution!", I hear you cry! Don't despair, we have you covered.
Here at Ultra Vision, we've listened to what you, our valued customers, have to say. We've identified the problem, and after months of research and development, have come up with a hell of a solution (if we do say so ourselves!).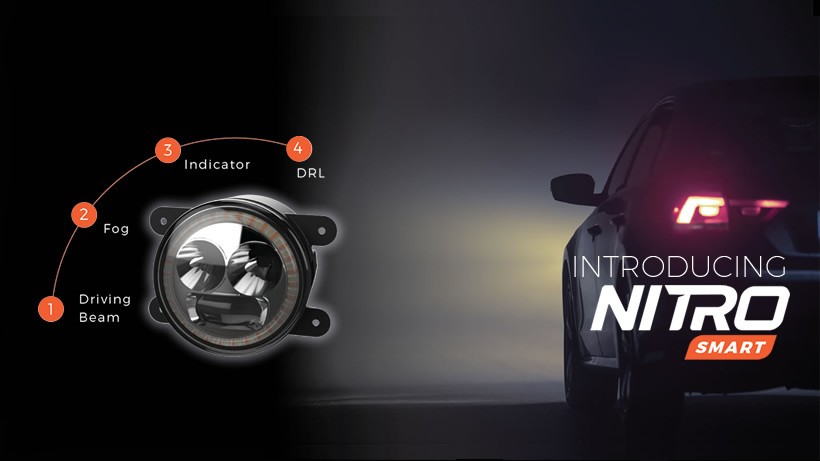 Introducing the Nitro Smart 4-in-1 Multifunction LED driving light. It's a fully-integratable, super-powerful driving light that fits seamlessly onto almost any vehicle, without the need for mounting or any other physical alteration. Too good to be true, you say? Well, read on to see how we've achieved it.
Seamless Integration
Our Nitro Smart driving light has been specially designed to fit into the existing hardware of your vehicle. So, rather than attaching an extra gadget, you simply swap in Nitro Smart lights for your existing bumper-mounted fog lights or DRL's (assuming they are 4" round).
In addition to that, not only do they work as a super-strong driving light (1 lux at 500m), they also function as normal fog lights, DLRs (daytime running lamps) and indicators. All functions are ECE approved, providing you with guaranteed road compliance.
By adapting the housing mounts the Nitro Smart will slot into the existing light mounting on your vehicle for total discretion with all the benefits of an aftermarket driving light. The external adjustments also allow for tweaking to ensure that you get optimum performance with any load.
Delivering 1 lux at 500m (more on this later) without affecting the style or look of your vehicle, the Nitro Smart LED driving lights ensure that you'll never lack that extra boost of headlights again.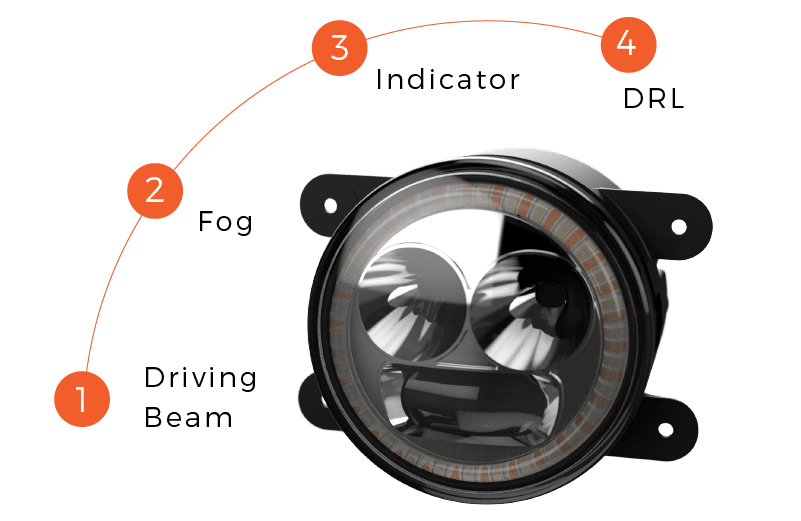 Ultimate Discretion and Durability
The most common location for our Nitro Smart driving lights is replacing the 90mm fog light in the bumper of your vehicle. Using a 4-point mounting system as standard, the light can be integrated into almost any bumper, and once it's in place is indistinguishable from the original. Until you turn it on, that is.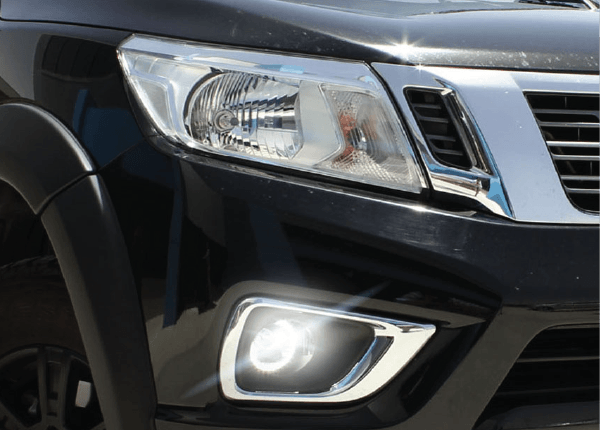 Built to be sturdy, with an aluminium housing and polycarbonate lens, the Nitro Smart offers 50,000 hours lifespan and Ultra Vision's 5 year guarantee.
Technical Specifications
Nitro Smart – Technical Specifications
Light Source
LED
Illuminance
1 Lux at 500m
Voltage
9V-32V
Current Draw
4.4A @ 13.5V
Operating Temperature
-40°C to 80° C
Waterproof Rating
IP67
Connector Type
8 Pin JST
Housing
Aluminium
Lens Construction
Polycarbonate
Carrier
GFN
Colour Temperature
5700K
Lifespan
50,000 Hours
Diameter/Dimensions
100mm
Net Weight
800g
Mounting Suitable
4 Point
Guarantee
5 Years
Let's have a look at what some of these more technical terms actually mean to you and me. For a full breakdown check out our whole series of articles dedicated to Making Sense of the Jargon around Driving Lights and Light Bars.
When we say that the Nitro Smart delivers 1 lux at 500 metres, what do we mean? 1 lux is the accepted amount of light needed for a person with 20:20 vision to be able to read a newspaper. So, with the Nitro Smart lights installed, you'll be able to read the paper half a kilometre down the road, if that's what you fancy .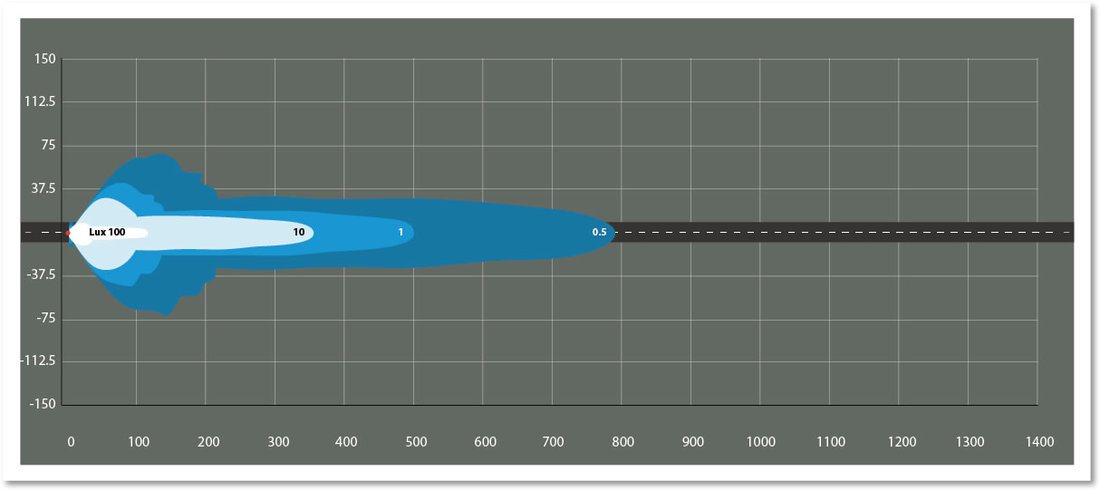 Next up, the waterproof rating. A rating of IP67 means that the Nitro Smart light is dust proof and capable of withstanding water immersion up to 1m deep for 30 minutes. If you want some more detail on IP ratings, check out this article.
The colour temperature refers to how 'warm' or 'cold' the light is. A candle is 1500k and daylight is about 5000k. Headlights start at about 4000k, and range up to 8000k. Anything above 6000k is blue light, and often illegal (and unnecessary). The accepted sweet range is 4000-6000k, for balancing definition and clarity, and the Nitro Smart, at 5700k, sits snugly in that range.
Homegrown Handiwork
Here at Ultra Vision we proudly produce the Nitro Smart and all of our other driving lights right here in Australia. That includes research and development as well as manufacturing. We firmly believe that manufacturing exceptional products locally is integral to the long term stability of our economy.
An added benefit of this setup is that we can have complete control over the quality of of each and every component of our finished product.
Complete Compliance and Assurance
We're proud to be Australia's number one manufacturer of LED lighting for extreme environments, including the mining industry. Therefore, we take our responsibility when it comes to safety very seriously. Where appropriate, all of our lights are approved by the ADR and the ECE, the Australian and European safety standards bodies.
We're so confident of our high-performance, high-quality electronics that we're happy to stand behind them. That's why we offer a 5 year warranty on all our Nitro products, across the range.
Light up your Life
Whether you're driving for necessity or pleasure, Nitro Smart lights will vastly improve your visibilityand safety without compromising the style of your vehicle.
We're delighted to have come up with a simple solution to a frustrating situation, and are very proud of the end result. We have a feeling you're going to love it too.