There's nothing quite like cruising down a stretch of secluded beach with nothing but pearly white sand as far as the eye can see. Thanks to our abundance of beautiful and remote beaches, It's a truly iconic Australian experience, and something that is completely unimaginable in many other parts of the world. 
If you haven't yet experienced beach four wheel driving yet we highly recommend you give it a go, It provides a completely different offroad experience from regular trails, and it allows for more activities such as surf fishing, snorkelling and surfing.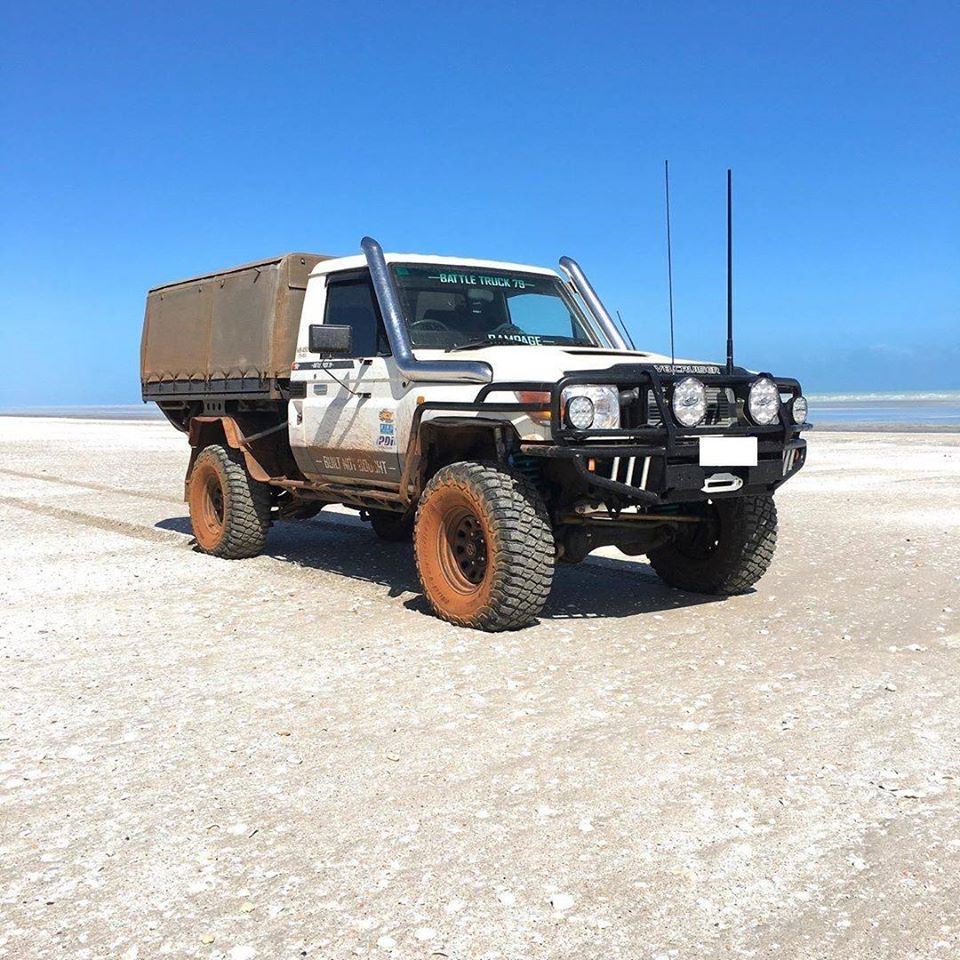 Tyre Pressure
Tyre pressure is one of the most integral factors when driving on sand, and it can often be why some people struggle to drive on the beach. The goal is to stay on top of the sand rather than digging through it, lowering tyre pressures increases your footprint and distributes the weight of the vehicle over a greater surface area, allowing the vehicle to "float" across the top of the sand rather than digging in and sinking.
While a tyre deflator isn't a necessity, it will make your life far easier when preparing to drive on sand, a key in the valve will work fine however it can be tedious and not very precise as to what pressure each tyre has. You will need to raise your tyre pressure back to standard levels when you get back on the roads, so a portable air compressor may also be something to consider. While any servo will have air compressors, in some areas they are few and far between, so it's important to know how close you'll be to this type of infrastructure before embarking.
Dune Climbing
When driving up a sand dune it vital that you DO NOT turn around or drive side ways, but rather travel straight up and down the dune. Turning around will greatly increase your chances of a rollover as your low-side springs will be compressed while your high-side springs will be trying to unload. Sand shifts, and what you thought was a nice gradual slope can overcome your vehicle's centre of gravity in no time. 
If you're stuck and need to get back down the correct procedure is to reverse back down in a straight line.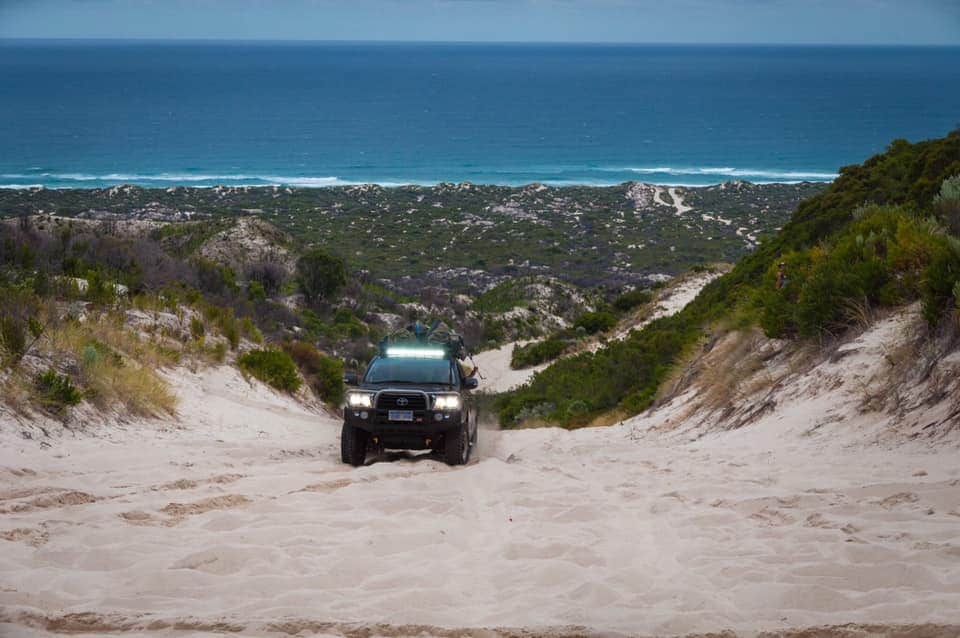 Maintain Momentum
One of the most important things do to is maintain momentum while driving across looser sand. Sand is fluid, and the friction between the vehicle and the sandy surface will zap the vehicle's power. Without the right throttle application, you will come to an abrupt stop and get stuck, so it is important to understand your vehicle and how it feels on the sand. 
Basic Essentials
Snatch strap: 

These straps are a very important addition and could make or break the trip if somebody gets bogged. Snatch straps are rated straps that are able to stretch slightly, allowing a car to pull another car out if stuck. Ensure to get snatch straps that are rated according to how heavy the car is that you're pulling out.


Traction Boards: 

Another great tool for getting out of sticky situations, 

Traction boards are  placed in front or behind the wheels of the stuck vehicle, the vehicle then drives onto them and the car is lifted back on top of the sand, making it safe to drive off.


Long Handed Shovel: 

Though it takes a bit more work, using a shovel can be one of the fastest way to release a bogged car from sand, long handed shovels are recommended so that you can reach further under the shovel.


Sand flag:

 This allows others to easily spot you over the top of sand dunes or on bush trails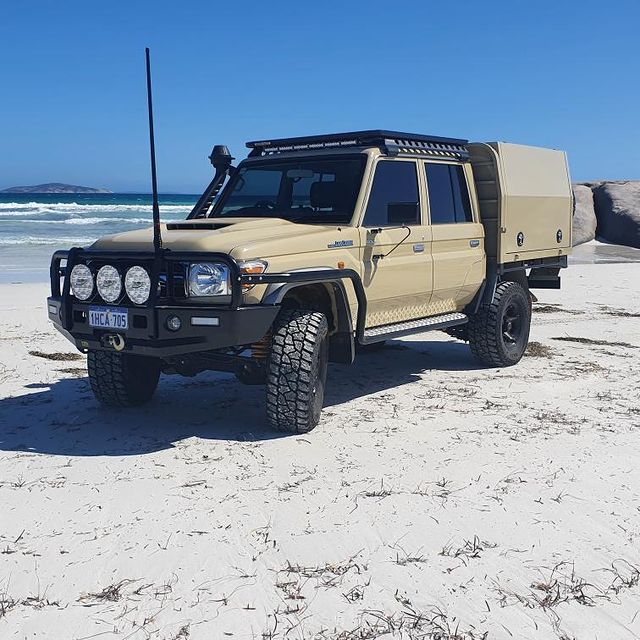 Some of Our Favourite Beaches to Visit
A world heritage site and the largest sand island on earth, Fraser Island is no joke. This stunning island is packed with endless sandy beaches, crystal clear freshwater lakes, huge sand blows and plenty of wilderness. It really is an adventure lovers paradise 
Robe is a picturesque town on South Australia's limestone coast, 330 km southeast of Adelaide.  This chic village is transforms into a vibrant and bustling holiday town over the summer months , with many coming here to escape the city. Featuring trendy eateries, pubs and the freshest seafood around, you'll be spoilt for choice. 
With many miles of secluded beaches to drive on and plenty of inland tracks, It's a 4WD paradise. 
Only a short 25 minute drive from Newcastle, Stockton beach is packed with dunes and is a haven for sand enthusiasts. Though many of the dunes are very steep, so much so that they can only be summited by snaking up more gradual slopes nearby. Grab a permit and get exploring!
Only 65km north of Brisbane but you'll feel a world away from any capital city! Bribie Island is best explored by 4WD. Home to wide stretches of sandy beaches and plenty of wildlife.  
A quintessential Australian experience, and something of a right of passage for many, beach driving is an all round fun and exciting experience. Just remember to ensure you have the correct permits and bring all the necessary equipment on your trip.