The Top Four Decisions to Make Sure you Get it Right First Time
So, you've decided it's time that you need more light in your life, and you're ready to invest in an LED light bar for your 4WD? Time to start doing some research then. Trouble is, Google turns up millions of results, and everyone has an opinion on what's best.
No one has the time to trawl through hundreds of reviews, sales pitches, and opinion pieces. Even if you did, a conclusive answer wouldn't be easy to find. Luckily, we've put in the hard work so you don't have to.
Read on to find out how to make the best decision and avoid buying something you'll regret later.
"No two 4WDs (or 4WD owners) are the same"
When it comes to asking yourself, 'Which LED light bar do I choose?', the first thing you need to look at is your own individual needs. Your set up isn't going to be the same as the next person's, nor do you want it to be.
There are hundreds of options available online, and sorting through them can be baffling. To make life a bit easier, we've put together the following list of the top four decisions that you'll need to make. For each one, we'll explain how it relates to you and your truck and hopefully make the whole process a lot more straightforward.
So, here we go.
Decision #1: Size and Price
First things first, you need to figure out where on the vehicle you're going to mount your LED light bar. Typically, they go under the bumper hoop or on the main flat of your bull bar. (Remember, in most states mounting a light bar over the hoop is illegal – please check your local laws.)
Next, measure the space available, this will give you a general idea of what you're after, and help narrow your search. If you're mounting your light bar into a gap on the bull bar, in the bumper, or on a number-plate bar measure your length, height and depth. Double check your calculations to avoid  frustration later!
Next, figure out what you want to pay. Price will be very relevant to the size—a large bull bar light may not fit a small budget! Pick a ballpark figure and stick to it, it will allow you to reduce your options drastically straight away. Remember though, before you set your price, that the level of 'lux' and 'lumens' will also affect the cost. I'll deal with those two terms later, in Decision #4, so hold off your calculations until then.
Decision #2: Mounting Type
If you don't want to drill new holes into your bull bars or bumpers, then look at what will fit the existing holes. Typically, there are two options here; full length U-brackets with slots or sliding base mounts which allow you to line up with the existing holes.
Be warned that some LED light bar systems come with fixed side-mount L-brackets only. This will almost certainly mean you'll have to drill new holes into your shiny new truck, something many of us won't have the heart to do.
Decision #3: The Look
This one is really down to personal taste. Do you want stand out and make a statement, or blend in with a more discrete set-up? There are options to suit every taste.
Firstly, how many rows of LEDS do you want? As height isn't usually too restricted, you can decide if you want single, double or even multiple rows of LEDs.
Next, pick your colour scheme. Choose coloured rims to match your truck, and decide what colour temperature you want for the lights themselves.
Decision #4: Lux and Lumens
You might be asking yourself; "How do I choose a bright light bar?".
As mentioned earlier, levels of 'Lux' and 'Lumens' are vital factors to consider when deciding which LED light bar to mount on your 4wd. These are what will determine the actual strength and direction of the light that your rig will give out.
When researching levels of lumens, you'll see the terms 'raw' and 'effective'. First thing to know is that the 'raw' lumens figure is basically useless to you and me. It relates to the how the LED can perform in optimum, factory-testing conditions. What we want to look at is the 'effective' lumens—how much light the lamp is producing based on how hard the electronics are working in the real world, taking into account factors like temperature and electrical current.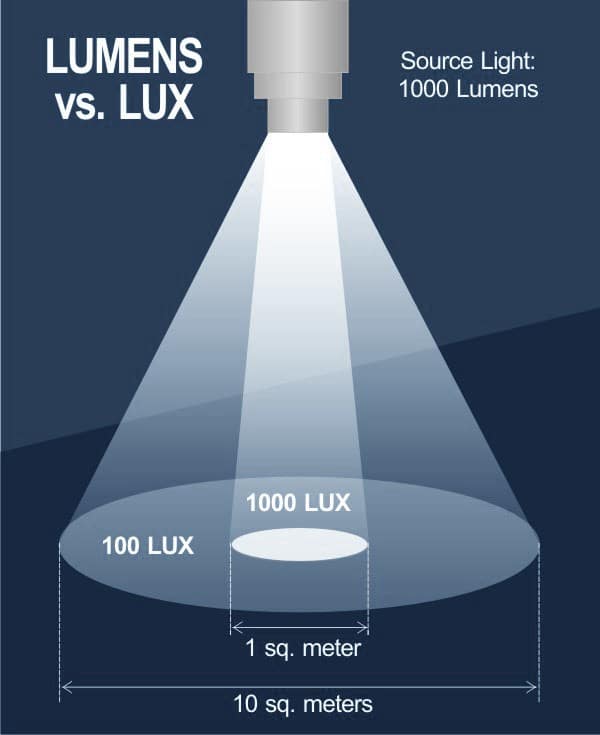 Unfortunately, many cheaper manufacturers only display a raw lumens value. Do not be fooled by a high value here, especially when no 'effective' lumens value is shown.
'Lux' refers to the actual shape of the light on the road. The optics or reflectors will control how the light will actually spread. As a rule of thumb, if the lux levels are high but the lumens are low, your beam will be narrow. If the lux is low the beam will be wide, but won't project far down the road.
These days, one can choose different optics depending on your beam preference. You can have pencil, spread or combo, and these will have different lux and lumens values to create these varying effects.
Choose carefully when making this decision, remember that hilly, twisty terrain will call for very different beams to flat, straight roads. Ideally, find a friend with an LED light bar installed and take their truck out for a drive to see if you like their setup, then choose yours accordingly.
Conclusion
So there we have it, the four main things to keep in mind when deciding what light bar to choose for your 4WD. These should help you to avoid the pain of choosing a light bar, buying it, mounting it, and then realising a few weeks down the line that it isn't for you.
By taking all the above into consideration you should make the right choice first time, and be blazing  the trail with your shiny new light bar set-up in no time!