Here at Ultra Vision, we have always been at the cutting edge of LED lighting so we can bring you the best Australian designed and manufactured LED Driving lights. Over the last year, we've been busy at our HQ looking at ways that we can innovate our products and offer even more value and performance to our lights.
After lots of hard work, research and development, we've come up with new innovations that we know will excite you and means that we've been able to make the best, better – with our new Nitro Maxx Range of Driving Lights and Light Bars! We take a look at what's new, and the enhanced performance offered by the range…
The Best Just Got Better
To make these leaps in performance, we have partnered with world leading LED manufacturers Cree & Osram, allowing us to use Next Generation Hybrid LED & Reflector technology that gives unmatched performance in both distance & spread – meaning the Nitro Maxx range offers the best range and width currently available in any Driving Light or Light Bars!
This has allowed us to bring you class leading performance in both distance and width, with our Driving Lights and Light Bars being true 'do it all' lights, so no matter what style you prefer for your vehicle or your environment – we've got you covered!
Driving Lights
We've made upgrades to the entire range – with the Nitro Maxx 80s, 140s & 180s all featuring next gen hybrid LED's, while still keeping the same size housing as the previous models in the range.
The Nitro Maxx Driving Lights now feature our registered WIDR Optic across all models, which when combined with our precision CONTRL Optics gives incredible distance and width, while still maintaining the life span of the LED's – making these Driving Lights the go to spotties for almost every situation! With the 80's now offering 1.2KM beam distance, the 140's 1.6KM, and the 180's 2.2KM, and all giving incredible beam width thanks to our optics, there really is no other light like it.
Add to that the fact that we offer 2 different colour temperatures, with the ever-popular 5700K light still available – and as popularity grows for a warmer light colour, the Nitro Maxx range also comes in 4500K with a blend of high power boost LED's, so you can get the right colour for your environment and conditions.
On top of all this, the lights now come with a new black bracket that features the Nitro Maxx logo for that ultimate sleek look – and as we stand behind every part of our driving lights, we offer a full lifetime warranty on all brackets, so you know your lights will be able to handle anything you throw at them.
The Nitro Maxx driving lights come with everything you need to light up the nights – with a pair of driving lights, wiring harness, brackets and nuts all included in one package making it easy for you to get the power of Ultra Vision on your vehicle.
Take a look at the performance that the best of the best offers with our Nitro Maxx 180 Driving Light: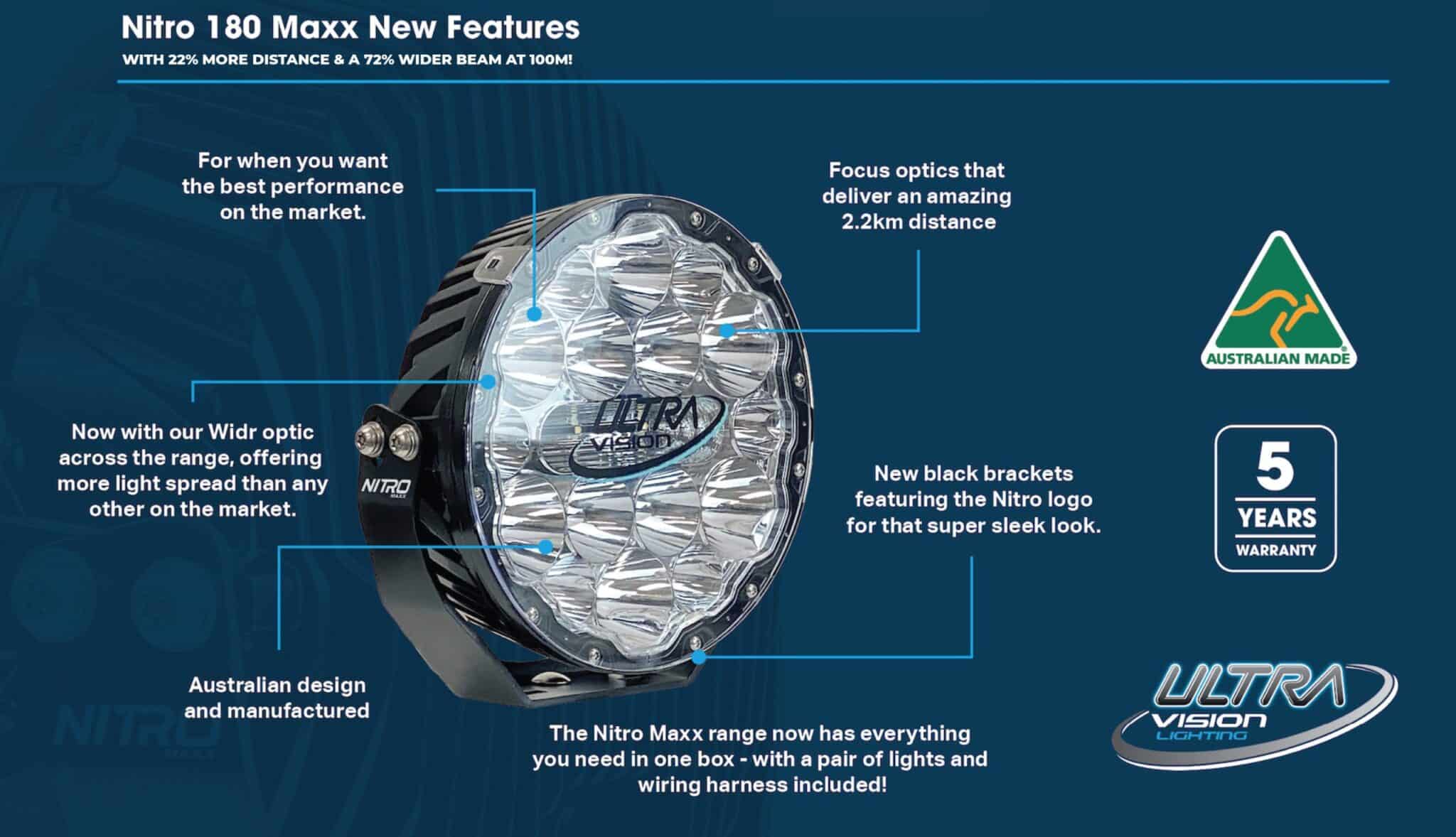 Light Bars
It's not just our Driving Lights that have received a boost – we've also been innovating and upgrading our Light Bars too!
We know that some customers prefer the width of beam that is offered by a light bar, and some simply like the looks and mounting options that a light bar gives them. That's why we've upgraded the LED's across the Light Bar range to not only offer supreme width, but also fantastic distance too…
The Nitro Maxx Light Bar range has always delivered superior width to suit your surroundings – if you tackle most of your low light driving on narrow country lanes, tight 4×4 tracks or winding trails with hazards on either side, our WIDR® optic is featured throughout the Light Bar range to give you that spread of light you need.
A great example is that for our ever popular Nitro 205 Light Bar, the width of the beam at 10m in front of the vehicle is almost half the width of a footy field!
And it's not all about the width, we've made some huge upgrades in distance too!
Thanks to upgraded Osram LED's, we've managed to increase the distance of light so that our light bars can go with you any road, any time, anywhere! In fact, all our Nitro Maxx Light Bars have seen distance upgrades – with some as much as 70% to give you the perfect balance of spread and distance for those trails where you need to see all the hazards that could be lurking in the hedgerows or on the side of the track.
Take a look at our ever popular Nitro 205 Light Bar – the width of the beam at 10m in front of the vehicle is a massive 46m, and at 25m distance an incredible 67m wide!
With versatile mounting options and different sizes, our Nitro Maxx Light Bars can give you exactly the look you want on your vehicle – from roof mounts to grille mounts, you'll be able to get the perfect positioning for your new light bar!
When Only the Best Will Do…
When you're looking for the best of the best, Ultra Vision will light the way!
Our Nitro Maxx range already offered supreme performance and ultra-high quality and now they've got even better. Whether you need driving lights for your next adventure to give you class leading distance and width and keeping you going no matter what time of day or night, or you prefer the width and look offered by a light bar – there's only one place where you will get performance that leads, not follows:
The Ultra Vision Nitro Maxx Range.